Anti Swimming Starting Block 400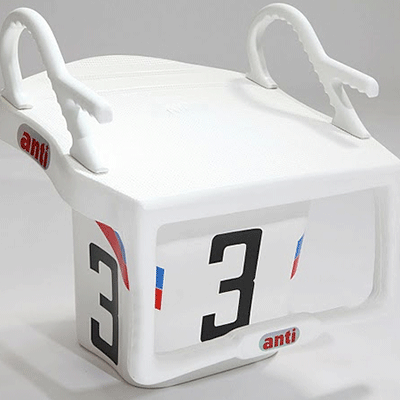 The Anti Starting Block is designed for the requirements of most normal competition and training pool layouts and combines the highest quality workmanship with the best possible price.
Produced in the UK from the highest quality products and to the highest standards, the Anti Starting Block will provide your pool with years of service and give your swimmers the edge in their training.
Specification
Meets all FINA requirements
Provides a high quality and long lasting swimming pool starting block at an affordable price.
Designed with close consultation with a number of professional swimmers and coaches throughout Australia.
Produced in the UK from top-quality materials including rugged, hand-laid fibreglass and SS316 fittings.
Base and top block are hand-laid fibreglass, while fittings are SS316.
Dynasets not included
Top surface suitable for sound and timing equipment and available in a range of colours.
Can be supplied in pre-numbered sets.
Enquire
Contact us via Telephone on +44 1926 484 749 alternatively you can Email Us and we will reply as soon as possible